About Micron 
Micron Technology serves the global memory and storage market with two distinct and complementary brands: Micron® for enterprise, cloud, and data center applications, and Crucial® for home, office and gaming systems.
---
Scale Your Memory and Storage, Not Your IT Budget
From cloud to client, Micron has the perfect solution for your business applications.

Maximize Your IT Budget Flyer
Did you know? Upgrading can increase workstation and server performance at a
3x – 5x cost savings over buying new.

Scale Up or Scale Out
Learn how you can extend the life and performance of existing infrastructure.
 
Cloud SSD & Server DRAM Solutions
Unlock the world's most cutting-edge applications with Micron products, including artificial intelligence, deep learning and data analytics.
Client SSD & PC DRAM Solutions
Crucial® memory and storage products are compatible with more than 175,000 computer systems.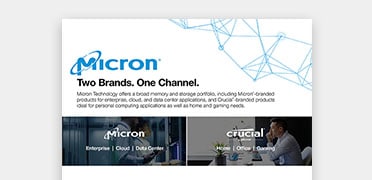 Micron: Two Brands. One Channel.
Micron offers a broad memory and storage portfolio, including Micron® and Crucial® branded products.