About Extreme Networks
Extreme Networks creates networking experiences that enable all of us to advance. They push the boundaries of technology leveraging ML, AI, analytics and automation. Over 50,000 customers globally trust their end-to-end, cloud-driven networking solutions and rely on their services and support to accelerate digital transformation efforts.
ExtremeApplications gives you network control, visibility and automation at your fingertips, with a 360-degree view from application to device. Jumpstart your automation journey with confidence and get insights, visibility and control for superior users experience from the edge to the private cloud. 

ExtremeCloud IQ Data Sheet
ExtremeCloud is available in three deployment options that support one goal — to provide customers with maximum flexibility, continuous innovation and consistent user experience.
---
Retail
Cloud-driven networking provides retailers with a fast path to enhance customer engagement, fuel growth, simplify operations and drive down costs. 
---
Healthcare
The adoption of consumer technologies, increased consolidation and advances in connected medical devices means that healthcare organizations need to be proactive with their IT and infrastructure strategies.
---
Leading Wi-Fi 6
Get high efficiency, high capacity Wi-Fi that utilizes the latest technologies to optimize and protect bandwidth in all environments.
---
Cloud-Driven
Combine the leading Wi-Fi hardware with next-generation Extreme cloud management to simplify every aspect of IT operations from deployment to support.
---
Machine Learning
Make the network work for you instead of the other way around with self-driving Wi-Fi powered by millions of actionable insights to continually adapt and adjust performance.
Wi-Fi 6 For Dummies
Wi-Fi 6 offers a paradigm shift at the network edge: not just faster speeds as in previous generation changes, but a shift to a high-efficiency Wi-Fi for substantially improved capacity, better coverage and reduced network congestion.
---
Network Upgrade at Humble Independent School District
Learn how Extreme's solutions helped to enable this school district the highest level of success for their growing student population.
SUNY Canton — Delivering Incredible Esports Performance
SUNY Canton is known for their competitive esports team, making quick response times and non-lagging network performance essential. 
---
From Persistent Downtime to Nonstop Connectivity
Conecuh County School District had been integrating educational technology into the classroom. Their previous network offered poor connectivity and often made it difficult to use technology effectively.
---
Coworking Facility Set for National Expansion
Waterman Business Centres started its serviced office business in 2016. Waterman has since grown from 20 customers and about 60 people to now catering for more than 1000 businesses while over 3000 people utilize its workspaces and facilities.
---

ExtremeRouting is a powerful WAN access platform that seamlessly and securely extends Fabric Connect services and micro-segments to remote locations
Agile Data Center Solutions for the Enterprise
Agile Data Center's automation, analytics and open adaptable platforms enables organizations to quickly respond to technology transitions and deliver services at the speed of business.

---
City of Pharr Public Safety Initiative Enhancements
In 2019, the City of Pharr completed several key projects, including road and drainage infrastructure improvements, renovating parks, and developing a new state-of-the-art Public Safety Communications Building and data center.

Top 10 Network Security Best Practices
Here are the Top 10 Network Security Best Practices, based on decades of experience implementing smart, cost-effective security capabilities for the world's leading enterprises.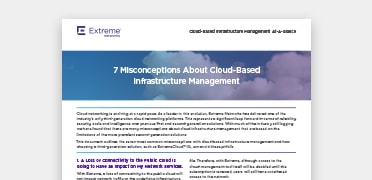 7 Misconceptions About Cloud-Based Infrastructure Management
Read about the seven most common misconceptions with cloud-based infrastructure management and how to avoid these pitfalls.
---

---