About WatchGuard
WatchGuard develops cutting-edge cyber security technology and delivers it as easy-to-deploy and easy-to-manage solutions. Solution areas: network security, secure Wi-Fi, multi-factor authentication and endpoint solution products.
---
Total Security Suite
Explore the full features and services offered in WatchGuard's Total Security Suite and find the right fit for your organization.
---
WatchGuard Network Security
Access a comprehensive portfolio of network security services, from traditional IPS, GAV, application control and web filtering, to advanced protection against ransomware.
---
Endpoint Security
WatchGuard's cloud-native endpoint security integrates the technology and intelligence needed for advanced prevention, detection, containment and response to threats. It includes a full stack of integrated product options including encryption, patching, remote monitoring and management and more.
WatchGuard Endpoint Security
Achieve maximum protection and take the guesswork out of endpoint security. WatchGuard solutions offer a full suite of security and operations tools.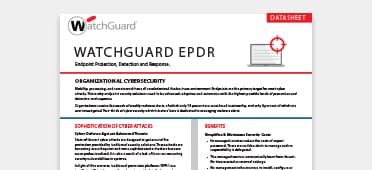 WatchGuard EPDR
Get a cloud-delivered solution that helps automate advanced threat prevention, detection, containment and response on your network.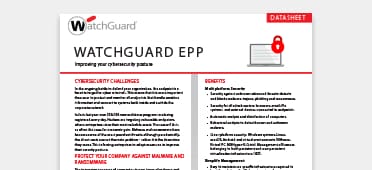 WatchGuard EPP
Centralize next-generation antivirus for all your Windows, macOS and Linux environments, virtualization systems and Android devices.
Multifactor Authentication Made Easy
WatchGuard's MFA solution is delivered entirely from the cloud and reduces network disruption and data breaches.
---
The AuthPoint Mobile App
Address security gaps by making each login attempt visible. Accept or block user access with a simple push notification from your smartphone. 
---
DNS-Level Protection for Users on the Go
Whether working from a home office, coffee shop or conference hotel room, three-quarters of the modern employee work remotely at least one day a week. With more business being conducted off-network and outside of traditional security tools, give your users comprehensive protection while they're on the go.
DNSWatchGO
Provide DNS-level protection and content filtering to keep business safe from phishing, ransomware and other attacks, even when your user is outside of the network and without requiring a VPN.
---
Protect Against Phishing with WatchGuard
WatchGuard's layered approach to security protects your users from potential phishing attacks while reinforcing crucial phishing education opportunities in the moment.
Secure, Cloud Managed Wi-Fi
Unlock the potential of a WatchGuard access point. The Wireless Intrusion Prevention System provides business-driven analytics and valuable engagement tools.
---
A Trusted Wireless Environment
WatchGuard provides framework for building a complete Wi-Fi network that is fast, easy to manage and secure for both employees and customers.
---
The Wi-Fi Buyer's Guide for the Small Business
Even when your business is small, you're always thinking big. Secure Wi-Fi is crucial to success. WatchGuard solutions are built on convenience and high performance.
Interested in a WatchGuard solution or offering?
---

---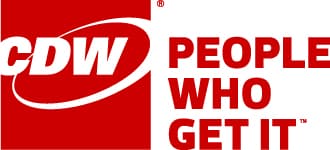 Copyright © 1996-2021 WatchGuard Technologies, Inc. All Rights Reserved.