The DocuSign Agreement Cloud™ digitally transforms how you do business via contracts and other types of agreements.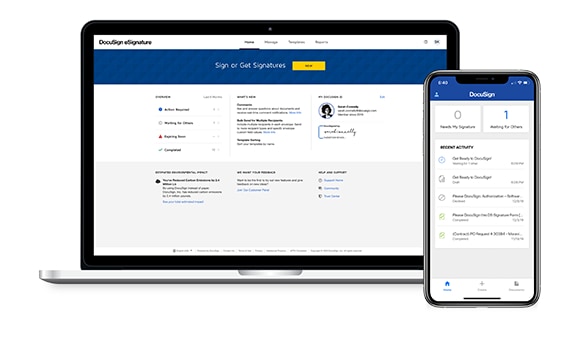 DocuSign is a leader in how to send and sign documents from practically anywhere, at any time. DocuSign e-signature solutions accelerate agreements, eliminate manual tasks and make it easy to connect with the tools and systems you're already using.
More than 1,300 federal, state and local government agencies in all 50 states use DocuSign to work remotely and streamline and automate agreement processes. DocuSign has DoD IL4 and FedRAMP authorizations and is listed on the FedRAMP Marketplace.
DocuSign Agreement Cloud for Government
Streamline your process with 350+ DocuSign integrations.
DocuSign Integrations and APIs
Integrate and connect e-signature with the systems and tools you already use, such as your favorite CRM, HR, ERP and business productivity solutions. DocuSign's award-winning APIs help to quickly integrate DocuSign technologies into your app or website.
Innovate the Digital Workspace
Redefine the limits of the future workplace with CDW and DocuSign.
Amplify Workplace Security
Stay secure while on the go with DocuSign, through CDW's Amplified™ Workspace.
Get always-on support for DocuSign's always-on solutions, with CDW's Amplified™ Support services.
Call
800.800.4239

to contact us about DocuSign solutions now.
Call
800.800.4239

to contact us about DocuSign solutions now.